Buy Nothing Day Essay. A Nightmare Of A Shopaholic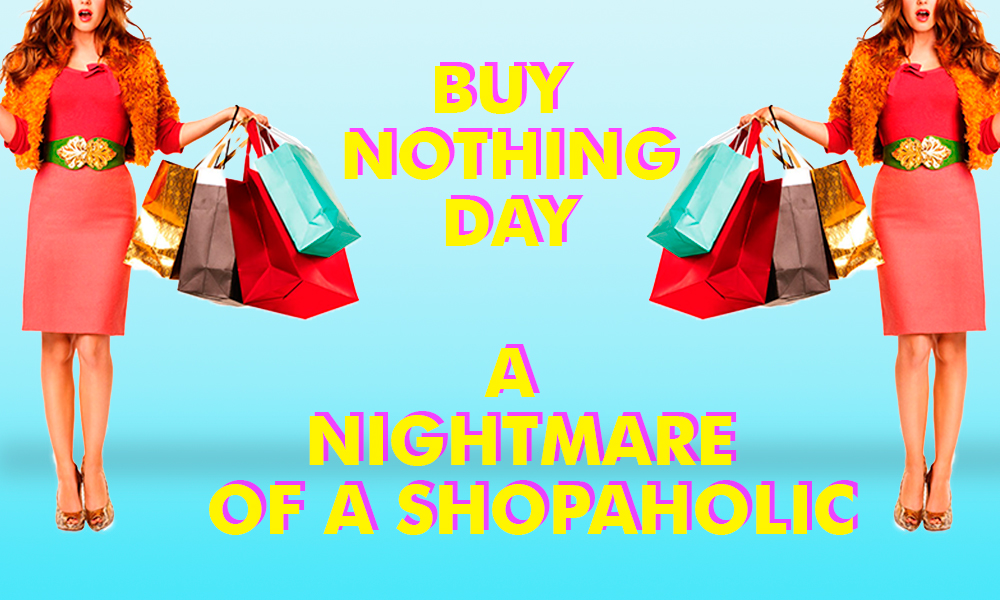 365 days a year we are forced to buy something. Advertisements stun, dazzle, mesmerize. There are a lot of discounts, promotions, sales. We have to buy a car, an apartment, a flat screen TV or even appearance. Enough! November 25 is the date of "Buy Nothing Day".
Every year, in the end of November people in many countries around the world disclaim from all purchases on the day, reminding that excessive consumption is a dangerous social trend. Buy Nothing Day in North America is celebrated on the first Friday after American Thanksgiving day that is the traditional time of the beginning of Christmas sales around the world. On this day, stores get from 20% to 50% of its annual revenue, and in the major shopping malls in a mass stampede every year people die. This Friday is known as "Black Friday". About this I will write further in this Buy Nothing Day essay. If this topic is interesting for you and you want to learn more about different events, then you can ask online paper writer to help you and to write essay on this issue.  
The idea of this celebration originated in America in 1992. Journalist Kalle Lasn has taken the initiative to abandon purchases in this day. He believes that the cause of the financial crisis is excessive and thoughtless consumption. In 2001, with the support of Adbusters, this campaign acquired a world-wide scale; the Buy Nothing Day took place in 55 countries in addition to Mexico, Canada and the United States. At the present time, 10 States of the USA joined to support such event.  This issue is important for US, because, according to the organizers, a citizen of the United States annually buys 5 times more than a resident of Mexico, 10 times more than a resident of China, and 30 (!) times more than a resident of India! Buy Nothing Day conduct standardly: in shopping malls activists organize peaceful demonstrations against excessive consumption and show anti-commercial banners.
Brands energize hysteria of consumption offering discounts and updating of the collection too much often. There is appear the illusion that fashion is changing and it is imperative to keep up with it. Shopping centers become places of family entertainment, and shopping has become one of the basic needs, a kind of antidepressant for the modern man, causing a strong addiction.
The Black Friday
The Black Friday is a major holiday for the buyers in the United States. It opens a series of Christmas sales across America. In this essay, I would like to lift the veil for those who still do not know what Black Friday is and give a couple of tips to experienced buyers.
Generally, Black Friday is not so black. Quite contrary – it is one of the most exciting days of the year for almost all Americans. It is exciting because of the big sales, and that happens in all stores. For some, it's the opportunity to purchase finally an expensive and long-desired thing. For others – it is a chance to earn money after buying something at a great discount and later resale with a profit on eBay. For third it is a chance to get gifts for Christmas and New Year for family and friends. Well, for most it is just a good opportunity to save a lot of money even on the most ordinary purchases.
Traditionally, to arrange sales on this day people began in the nineteenth century, and its official name "Black Friday" received much later. Since 1966, the Police Department of the city of Philadelphia began to call the day after Thanksgiving Day due to the fact that on the streets on this day there are occurred an incredible traffic of pedestrians and traffic flows. Every year Black Friday comes on the fourth Friday of November, it is a day between 23 and 29 November. In the current year, 2016, Black Friday will be on November 25.
For ordinary Americans, Black Friday starts on Thursday evening. Many stores open their doors on this day early in the morning. In this regard, many Americans simply do not go to sleep or go to bed very early, for being ready at 2-3 a.m. People begin to prepare almost at midnight, for catching things on the biggest discounts in time. Usually, at 6 a.m. there is nothing to do in the store: you will find only "swept" shelves, buyers with filled carts and the lines to the cashiers from wall to wall.  This is all that you will be able to see.
So Friday ended. Commodity shelves in stores are swept away, sites of online shops don't work because they were unable to withstand the influx of visitors and happy customers rejoice their new acquisitions. What about weekends after Black Friday?  On Saturday and Sunday some shopaholics will have an awakening. They begin to understand that they could life without all purchasing that they grabbed. And again there are huge queues. But now, the crowd will wait not for shopping, but in order to return a bought in fever products. And all goods that are returned to the store will again be offered for sale in the coming days. All returns will get in the category of used and open box products, and it will be sold again at a big discount. Is it not a chance? Also, if you didn't have time to catch discount on Black Friday, you will always be able to try your luck during the Christmas sales! The purchase of even the most common trinket can make a person happy. For someone it can be smartphone and someone will be happy because of pet. By the way, pets can change your life. How? Read this essay.
Interesting facts about shopping
In the USA, the love of shopping has acquired truly horrific sizes. This has resulted to the emergence of societies that were called "anonymous spenders" in 60-ies of the last century. Today only in the United States there are about 400 branches.
According to statistics, the biggest wastes happen on the day of receiving the salary: on the joys, people buy anything they like. So you should always have a shopping list and don't do a shopping on an empty stomach. If you go for new clothing, revise your existing wardrobe – clothes, shoes, accessories and underwear.
Contrary to popular belief, only women can be shopping addicted. But there are a lot of men, in particular, among them, Mike Tyson and Elton John. Among women especially love shopping Celine Dion, Cameron Diaz and Britney Spears.
Psychologists advise to go to the store with cash, not with a credit card and to take an exactly amount that you can afford to spend – these precautions will save you from unnecessary spending.
In conclusion, I want you to think about do you really need all of the things you buy? Excessive consumption clatters and pollutes the planet: unnecessary clothes, cosmetics, accessories, furnishings, appliances, etc, all of it finish its short life at landfills.
As you could understand from this essay, the problem of reckless spending of money is relevant. Even ordering essays, you can spend a lot of money. But this service is for any budget and paper will be done perfectly for you.