How to Write Communication Essay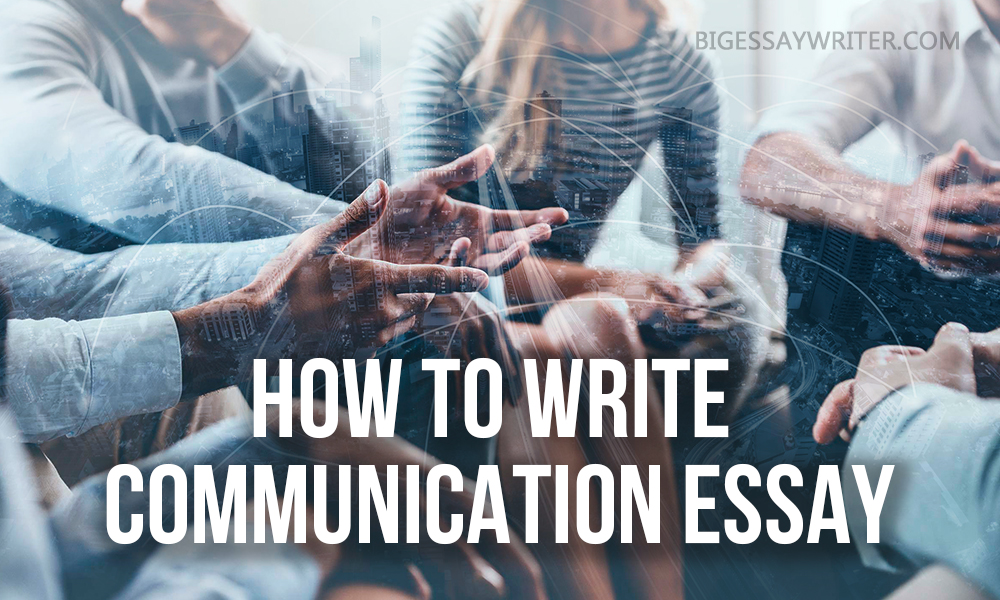 Communication essays are a hard nut to crack for many students who do not know the basics of writing this type of paper. Previously, we discussed the basic elements of justice essay and its types. Before discussing the key points of writing communication essays, there is a need to provide a definition of this type of academic writing. Essay on communication is focused on the process of interaction between people and their environment. According to Wikipedia, communication studies refer to an educational discipline that is concentrated on the process of human communication and can be of different types, which are:
Verbal communication that involves listening to the conversation partner in order to understand the meaning of the shared information.
Written communication, during which the shared message is read.
Non-verbal communication that involves observing a person to understand his/her message delivered with the help of non-verbal means of communication.
Essays on communication can be of different types, each of which will be observed in detail in the current essay. Thus, there are such types as nonverbal communication essay, intercultural communication essay and interpersonal communication essay. In order to understand how to write each of the above-mentioned types of communication essays, one needs to know their definitions and basic elements, as well as the key principles of writing these particular types of essays. All this will be discussed as follows.
Non verbal communication essay is focused on the non verbal means of delivering a message to the conversation partner. According to Wikipedia, nonverbal communication stands for a kind of communication that implies sharing messages through wordless clues. This includes four basic elements, namely the use of visual clues, body language, distance and physical appearance, voice and touch. Written communication is comprised of certain elements of nonverbal communication, namely the style of handwriting that differs from person to person. It should be noted that only a small portion of brain processes verbal information in the course of communication process. The rest resides with nonverbal communication. That is why it is of great importance to know the basic features of nonverbal communication in order to interpret the message delivered by the conversation partner in a correct way. As for nonverbal communication essay, basically, it deals with various nonverbal methods of communication including voice, gestures, eye contact and many others. Understanding of every means of nonverbal communication is important for writing the essay about communication properly. You need to be attentive to the body language of your conversation partner in order to interpret his/her message correctly and understand what he/she wants to say. If you learn to understand nonverbal means of communication, the task of writing a communication essay will become easier.
 As for interpersonal communication, it is also a field of study that investigates the nature of the information exchange between two or more people. According to Wikipedia, successful interpersonal communication means the process of communication between the sender and the receiver, in which both parties understand the message being delivered. Interpersonal communication essay is not easy to write if you lack certain skills and knowledge on this field of study. However, there are certain tips that might help you write an essay on interpersonal communication. First, you need to understand the topic of your research and find required information for the study looking through all the available materials on the discussed topic. Second, you should choose only trustworthy resources for writing an essay on interpersonal communication, as a considerable part of the materials available on the web is not reliable enough to compose a decently written paper. Third, you should consult your professor or supervisor in case you have any questions about the topic of your essay before proceeding to writing the paper. Finally, you need to investigate the given topic to full extent to compose a well-written paper on interpersonal communication. This field of study is a tricky one, so you need to learn the basics first and then expand your knowledge on the given topic. If you follow all the above requirements, you will be sure that you will get the highest grade for your paper without any additional effort. If you want to learn more about interpersonal communication, check our website.
Intercultural communication essay deals with sharing of information by various social groups and people with different cultural background. In order to write this type of essay, you should understand the peculiarities of different cultures. It is widely known that in today's globalized world, understanding of other cultures is important for successful intercultural communication with members of different cultural groups. It is easy to be misinterpreted if you speak to a representative of another culture because people from other countries use a different body language and different means of non-verbal communication. Verbal communication obviously differs from culture to culture, and you need to be careful when speaking a foreign language with a representative of another culture. According to Wikipedia, knowledge about intercultural communication should include understanding of how people from other cultures perceive the world around them and what means of communication they use during conversation. In order to write a good intercultural communication essay, you need to understand the key peculiarities of different cultures and distinguish various verbal and nonverbal means of communication used by different social groups. This will ensure that your paper will deserve the highest mark.
Finally, it needs to be noted that essays on communication can be tricky if you do not know much about the verbal and nonverbal means of message delivery, communicative means used by different cultures and peculiarities of interpersonal communication. The basic requirement for writing a communication essay is to understand the essence of various kinds of communication as discussed above. This will ensure that your essay is written well and deserves the highest grade. Understanding the basics is important for writing any type of essay, especially the essay on communication, so don't hesitate to expand your knowledge about various aspects of human communication to deliver the best-written paper to your professor. Otherwise, you can order communication essay on our website and we will make sure your essay is written to the best of our writers' abilities.