Multiculturalism In Australia Essay And Its Features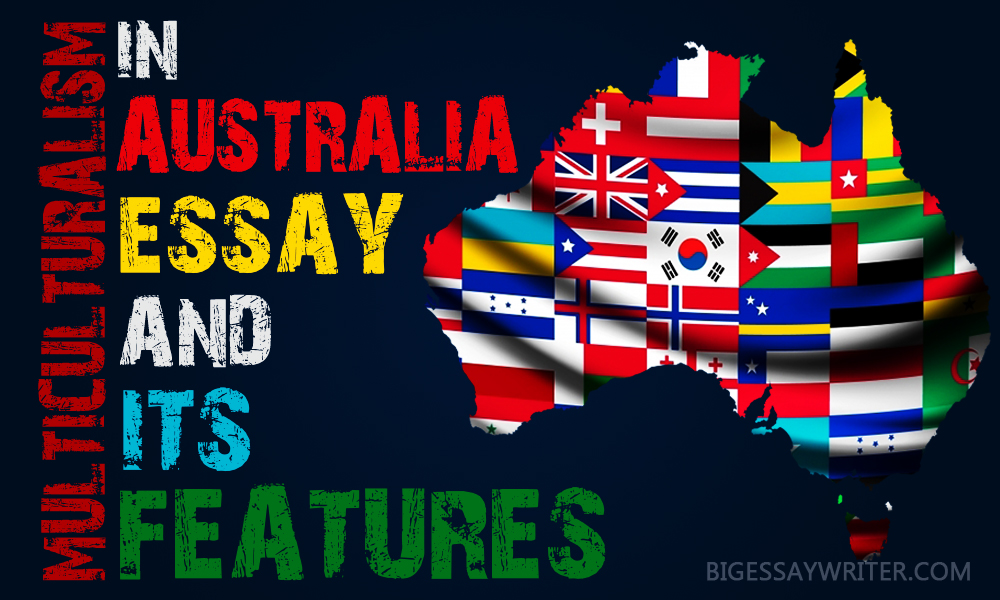 Multiculturalism is the policy aimed at preserving and development of cultural diversity in a certain country and in the whole world. Multiculturalism is considered an opposition to the notion "melting pot" which is based on the fusion of cultural peculiarities of different countries.
This idea is widespread in economically developed Western countries that have the great influx of immigrants every year. Although, the idea of multiculturalism was strongly criticized by plenty of developed countries, such as:
- Russia
- France
- Canada
- Germany
- Japan
Essays provided by our skillful authors are able to help you to get the new information about multiculturalism in the countries mentioned above. Therefore, we may proceed to the point of our discussion, multiculturalism essay.
Nowadays, Australia is a country with one of the highest living standards in the world. Its population amounts to 20 million people; about 95% of them are Europeans, others are Asians and aborigines. Australian immigration policy has essentially changed since the second half of the 20th century. Initially, it was aimed at assimilation. The authorities were concerned that immigrants had to settle and work among the Australians.
Thus, they failed to prevent the formation of ethnic groups. Australian employers did not procure well-paid labor to immigrants because they did not pay attention to their diplomas. In the 60s, the government began to create the programs of social adaption for immigrants:
          - improved English courses
          - phone support by interpreters
          - financial support from public organizations
However, the assimilation-orientated program did not have any success, and the government began to use multiculturalism strategy. After 1970, there appeared different structures aimed at the care of ethnic communities (for instance, Australian Institute of Multicultural Affairs), a special TV-channel and radio orientated to immigrants; the multicultural education was introduced. If you are interested in multicultural education essay, look through best essay on education.
For about a decade, the multicultural policy of Australia was based on the folkloric understanding of ethnic minorities. However, this strategy did not have any success. The model of multicultural society that functioned about a decade in the 1970s forced immigrants to identify themselves with a certain community, which was considered self-isolated. It could cause the risk of ethnization of social diversity and relationship. If you want to get the additional information, search for our multicultural society essay.
Consequently, the multicultural policy was reviewed and its ethnocentric model was replaced with public one. Henceforth, multiculturalism has been formulated as the terms of real equality of citizens. The support of ethnic minorities was no more in the foreground; the priority was given to constitutional rights, mostly social.  National Agenda of Multicultural Australia defined three aspects of multicultural policy:
cultural identity
social justice
economic efficiency
The first point gave a citizen the right to the cultural realization (including language and religious self-expression). Ethnicity, as language and religious affiliation, was considered a free decision. The second point assumed legal guarantees of equality and absence of social discrimination based on a color of skin, sex, confession and other factors. Finally, the third point meant the encouragement of talents of citizens (regardless of their origin), preferably from the humane point of view.
The equality of human rights despite their origin is the way to success for every country, isn't it? The change of migration policy, which allowed Muslims and Asians (and also Europeans of non- British origin) to migrate to Australia, had a positive effect that cannot be refused. Due to this policy, the country achieved a lot of prominent citizens – famous executives, politicians, scientists, doctors, artists and qualified workers.
It also positively influenced the demographic situation. Many interracial marriages appeared, and their children claim themselves Australians. In respect to cultural innovations, the immigrants brought a wide variety of dishes to Australian cuisine, as well as cultural and folkloric festivals.
Pros and cons of multiculturalism
Some scientists consider that this policy failed and led to the discretion of the nation. They think it stirred such problems as:
               - illegal immigration
               - ethnic crime
               - inter-ethnic clashes
               - terrorism threat
The cultural distance appeared. A part of immigrants isolated in their communities and began to orientate to their own connections and principles that are often far from pluralism and tolerance. It is mainly referred to Islamic communities. The main role of it is connected to their religion, but it is another difficult problem of modern population.
To sum it up, the policy of multiculturalism is a rather controversial issue. At the first blush, it has a lot of positive aspects and purposes. Immigrants that for some reasons had to leave their motherland need human's support in new countries. Moreover, they fear to be isolated because of their native language, a color of skin, religion or other factors. They try to preserve their own cultural peculiarities even in a new country and still stick to new traditions.
Assimilation is an inevitable phenomenon, but some immigrants try to preserve their native traditions for their children (language, culture). What is the purpose? Nevertheless, it is their decision.
In spite of all these difficulties, Australia does not refuse the policy of multiculturalism. Throughout the centuries, more and more immigrants come to this continent and receive an appropriate support there. Australian government created efficient programs that help them to accustom rather quickly.
Do you watch a lot of news about Australia? Moreover, are they about crimes? It seems to be one of the quietest countries in the world. Mainly, these characteristics are achieved because of the successful policy of multiculturalism that is based on the equality of human rights. There are still some difficulties, but Australia may be considered one of few countries that have notable success in multiculturalism. That is clearly seen in the extremely low level of aggression and crime of modern Australian population.
Do you have some thoughts about this phenomenon? In case, you have an opportunity, do not fear to share them with us. If you appreciate our essay, you may search for our resources to find some new interesting information. Join us!