Essay Editor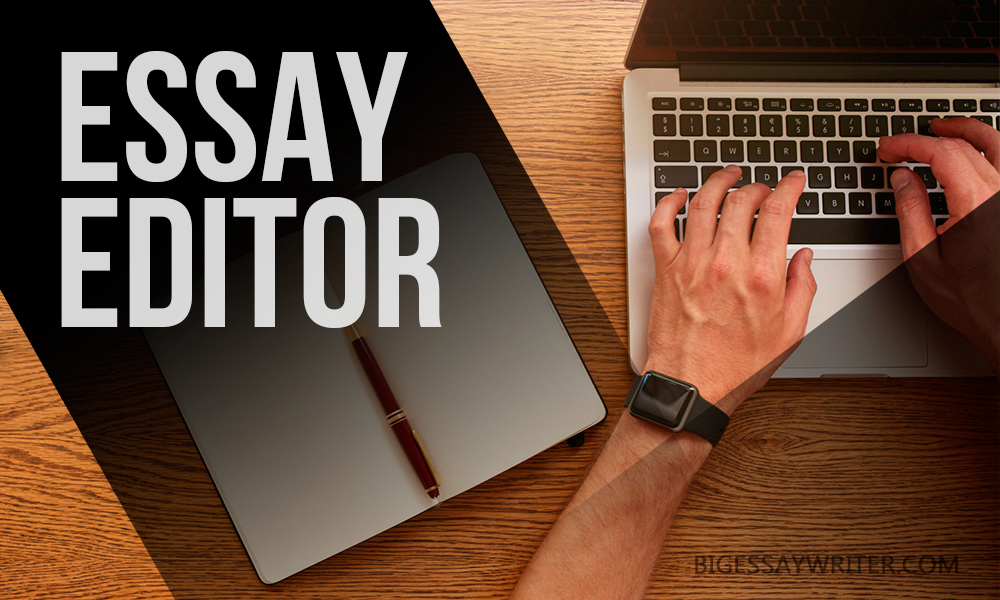 Every writer needs an editor. No matter whether you are a professional or just a student, whether you read a lot of good literature and write every day, your writing will still benefit a lot from a help of a good editor. You don't need to spend long time in search because you can hire a first rate college essay editor right here. If you are still not sure that you want an assistance of an online essay editor, this article about the advantages of our editing service will dispel all your doubts.  A high quality essay editor online will greatly increase the chances of your paper getting the higher score. Our editors work not only with essays but with all types of academic papers an all levels, from school to university. But first you will need to prepare a first draft of your essay, if you are not sure how to do it read this informative How To article. Before hiring an editor it is better if you understand what the actual editing is, how it works and if you could edit your paper by yourself. Those are things we are going to find about in this blog post. 
How editing works?
Despite many people's believes editing is not just reading a paper once and putting in the missed commas and articles. Any good professional editing process consists of many layers. The editor goes through your paper more than one time. At first he examines the work on macro level, step by step proceeding to a micro one.  Of course editing process would differ depending on the type of writing being edited — a fiction book needs a different treat than a PhD paper.  But it is possible to devise three layers that would be common for any kind of writing material, which are:
Structural edit. This is editing on macro level. The editor here looks at the work as a whole — its structure, logic, consistency, focus, premise. He may advice you to develop some parts more and leave out the others;
Line edit. This in between layer is mainly concerned with paragraphs and sentences. The editor will see how well developed the paragraphs, if the transition between them is smooth. He will also fix the sentence's structural errors and bad grammar;
Proofreading. This is editing at its micro level. It requires a very sharp eye and concentration of an experienced editor because this layer of editing deals with minor mistakes, like typos, misspellings, punctuation, etc. It is truly a fine art.
Misconceptions about editing
Editing is a kind of intangible service that cannot be fully perceived through all senses like a sculpture or a piece of cake. Many people underestimate the value of good writing and don't understand how much influence it has in their lives. The problem is that an editor remains in the shadow. We just appreciate a good book but we can't see how many hours of hard work was put into it by an editor. That is why this area of service is covered with misconceptions, which are:
Good writers don't need editors. We read a book and think what a great job the writer did. Not even for a second we consider to give part of that credit to an editor. Professional successful writers say that actual writing process begins with editing. That is when the work acquires its shape and focus. Many famous writers admit that they write terrible first drafts, they just unload everything that gathered in their heads onto the paper. And only then the editor among the piles of dirt discovers the real gems. Such famous authors like Charles Dickens and Ernest Hemingway claimed that the world would never see and enjoy their novels if not for the help of their editors. So no matter what a great writer you consider yourself to be, your essay will only benefit from a professional editing, which our company could provide if you just ask us about it here;   
My friend will edit it for me. It is a mistake that many beginning writers fall for. They think why they should pay somebody when their friend, mother, girlfriend or uncle reads so many books and is an extremely literate person. You are very lucky if you have such friends or relatives that are happy to critique and correct your work but no matter how hard they try they would not be able to replace a professional editor for two reasons. First is that they don't have that experience and education that an editor has. They would not be able to give you a sound advice about plotting, premise, structure and logic of your paper. Second is that they will still remain to be your friend or relative and it would be hard for them to be unbiased and see the problems that could be in your paper, because they like you and don't wish to hurt you;
I will just use a free online editing tool. The scientific progress made the writing process much easier and more enjoyable for human. We don't need a heavy dictionary anymore when we need to check a correct spelling of a word, our word processor will do it for us. Nowadays there are plenty of online editing tools, for example a popular one like Hemingway Editor app,  that will fix some of your grammar mistakes, point possible errors in punctuation and word usage, long sentences or complicated phrasing.  All these are great because they can teach you to write better so next time you will not make the same mistakes. They are good for spotting some mechanical errors in your paper, but they cannot possibly replace a human editor. The machine editors cannot understand the meaning of your writing and whether you fully developed your thesis statement, or that logic of your argument and tone of your paper are consistent.
Editing is an important part of writing process from which your paper will benefit greatly. The editing process is not that simple as it may seem at the first sight and consists of many layers, from macro to micro ones. Editing is a kind of fine art that often stays unnoticed; this is why it is surrounded by some misconceptions that we tried to clear out in this post. Today there are many online tools that promise you do to your editing for you quick and easy. But none of those tools whether free or expensive ones can spot the problems and strong points of your paper as an eye of an experienced editor can. So do not hesitate to write to us because our editors are real experts of their business and the pricing policy is friendly, just see it for yourself here. You don't have a ready essay yet but you need to compose one soon? Then read this free sample essay and hopefully it will inspire you to write your own. What if you cannot come up with the topic for your paper? We have many articles about popular relevant essay subjects, for example like this one, you can borrow some ideas from there if you like.