10 Essential Skills for Any Career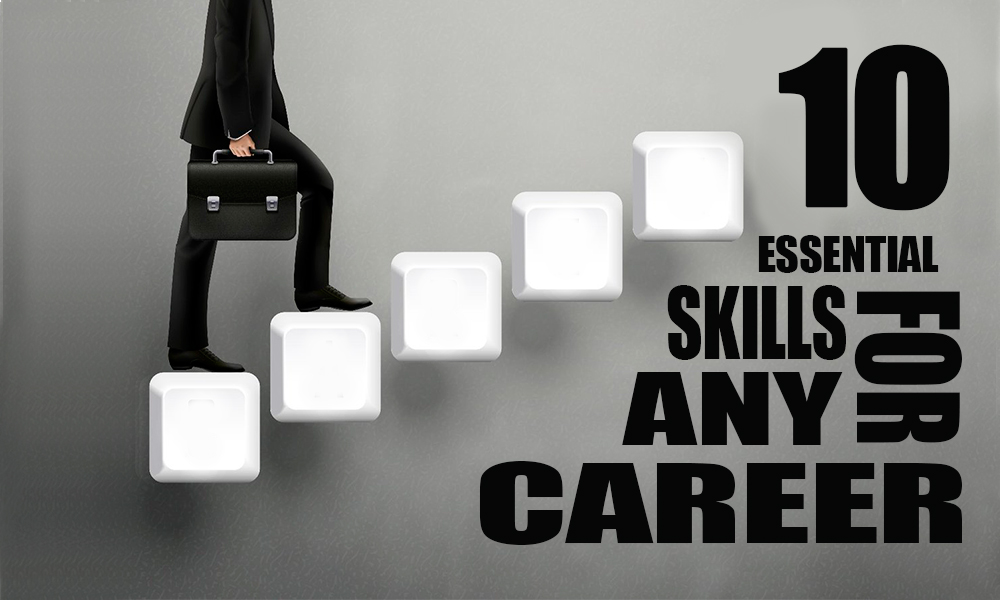 Climbing up a career ladder is difficult if you do not know where to start. Graduating from university is one thing, but by now you have probably learnt that they do not teach you a lot of vital practical stuff without which career growth is nearly impossible. Our research paper writer services will save the day by giving you the list of 10 essential skills that will help you in any career. Having developed them, you will have no problems winning a desired position or getting a promotion. So, what you cannot do without is…
Writing skills
This skill is probably the cornerstone of any career, and the reason for this lies on the surface. What is the first thing you do when applying for a job? Sending in your CV, of course. At this stage an employer does not know anything about you, and your CV becomes the only thing that helps to estimate and judge you. You should keep in mind several things when working on your CV:
Divide all the information about your past into two groups: relevant and irrelevant for the position. Skip the latter.

Avoid colloquial language.

Write only the truth about yourself.

In the end proofread the text to eliminate spelling mistakes or errors in grammar structure.
If you have solid writing skills, this task will not be a problem for you. Otherwise feel free to use our editing services, which are always there for you when you need a quality piece of writing.
Computer skills
The basics of editing text documents or working with the Internet are an absolute must-have in modern life. Computer skills will get you as far in your career as you can possibly get; to be more precise, you will not get too far without them in this age of IT. Depending on your profession, you will need a different set of skills. Of course, the harshest requirements will be for IT specialists, but managers, accountants and even sellers must be able to work with computer programs at least to some extent.
If you do not know where to start, look for online courses. They will teach you how to work with everything from text editors to databases and programming languages. By spending from several days to several months right now you will spare yourself from possible future stagnation in your career due to your lack of computer knowledge.
Critical thinking
The ability to analyze information is another thing that matters in the modern world. Have you ever thought about it that writing college essays is aimed at imparting this very skill of critical thinking? By analyzing different sources you have to come to your personal conclusion on a certain topic and substantiate your thoughts with valid factual data.
However, critical thinking is more than just that. It is the ability to think independently, to have your own opinion about things and events around you. This skill can help you tell the truth from a lie and move in the right direction in your life. Naturally, it will be vital for your career as well. You can read more about critical thinking in our special critical thinking essay available on our website.
Communication skills
Take any profession, and you are surely going to communicate with other people there. The question is, how effectively can you manage to do it? Those who have mastered the secrets of effective communication have no troubles at work when it comes to negotiations, meetings and simply everyday cooperation. In order to achieve more with the help of other people, try to use these strategies:
stay positive when talking to others: smile more, pay attention to your gestures;

become a good listener: develop a habit of listening to your interlocutors till the end, and do not jump in with your comments in the middle of their speech;

select your words carefully not to insult anyone with them.
Reading books on human psychology will help you with this skill as well.
Leadership
You may argue that representatives of many professions do not need leadership skills at all, and it really can be true for a certain position, but here we are talking about career. From this standpoint, sooner or later you will end up high enough on your career ladder that you will have to show your leadership skills. This is simply inevitable, so it is a good idea to start preparing yourself beforehand. Today sounds perfect, do you not think so?
First of all, from now on you should think more about the image you create in other people's eyes. They must see in you a confident, reasonable person who puts forward bright ideas. It means you will have to spend more time on your work because thinking about new ways to improve different situations will take not only your working hours, but sometimes even night hours, too. As a rule, the most brilliant ideas come to us when we expect them least, so always carry with you something where you could put down those precious thoughts that come to your mind.
Organizational skills
If you cannot organize yourself, you are not likely to achieve much in your career. Self-organization comes first for freelancers, but other specialists will only benefit from it, too. It includes the ability to plan your time with regard to your active hours – the time when you are most productive. It also means being able to arrange your priorities in order to achieve best results in different tasks.
If you have problems with this particular skill, start reading books about time management. Alternatively, think about delegating your responsibilities to a third party. You cannot but agree that it is quite easy in academic life: if you have no time to finish your essay, you can always place an order with our writing company, and we will do everything instead of you. This very strategy will work for you in your career as well if you belong to one of the next groups of specialists:
a writer,

a journalist,

a content manager,

a script writer,

a secretary and the like.
As you see, we enumerated people who work with text in their everyday life. If you are one of them, you are welcome to use our services to help yourself out a bit with your organizational issues.
Problem solving skills
Employees who do not lose their mind in stressful situations are greatly appreciated in any position. Problem solving is a complex process, which includes the ability to communicate effectively with others and to think critically. You see that the skills you need for a career are interconnected, and you cannot skip one of them without a certain loss at another point. That is why we recommend to work on your skills if not simultaneously, then at least in turns. This way it will be easier for you, and you will achieve more.
Working in team
Even if right now you have projects only for yourself, it does not mean the situation will not change. Working in team is incredibly efficient provided you are a good team player. Here are some tips how to become one:
find out what you can do best, and take tasks for yourself with respect to it;

be objective in detecting your strong and weak sides;

do not steal somebody else's bread; if a person does well the task you are aiming at, let it go; if you are ready to start a conflict on the grounds of it, then you were not attentive enough when reading about communication skills;

adhere to deadlines because in team work you have more than your own reputation at stake.
Here at Big Essay Writer we have much experience in team work, that is why we know what we are talking about. We are only able to render our services because we have a big team of writers and support managers who do their best to satisfy your needs.
Flexibility and adaptability
Be ready that your working environment will change over time. It may happen due to new employees, moving or your promotion, after all. If you manage to adapt to the new surrounding quickly, and do not lose your efficiency, then you have strong flexibility skills. Otherwise you should develop them.
Traveling helps a lot with it. When you find yourself in an unknown town, in the middle of strangers, it makes your brain work hard and acts as a strong stimulus. Passionate travelers are always good at adaptability. Moreover, learning a new language can have the same effect. To make a combo out of these tips, learn a new language and travel some place where local people speak it. Be sure that such kind of pastime will boost your flexibility skills to the maximum.
Now that you know 10 essential skills for your career, it is time to start working on them because theory is nothing if taken separately from practice. Find out which skills you already have, and which ones are the most difficult for you. And then start improving yourself on a daily basis with the tips we prepared for you. We hope that your career story will end up somewhere on the pages of Forbes or Wikipedia!