10 Tips How to Cope with Pet Loss and Start to Seek Your Pet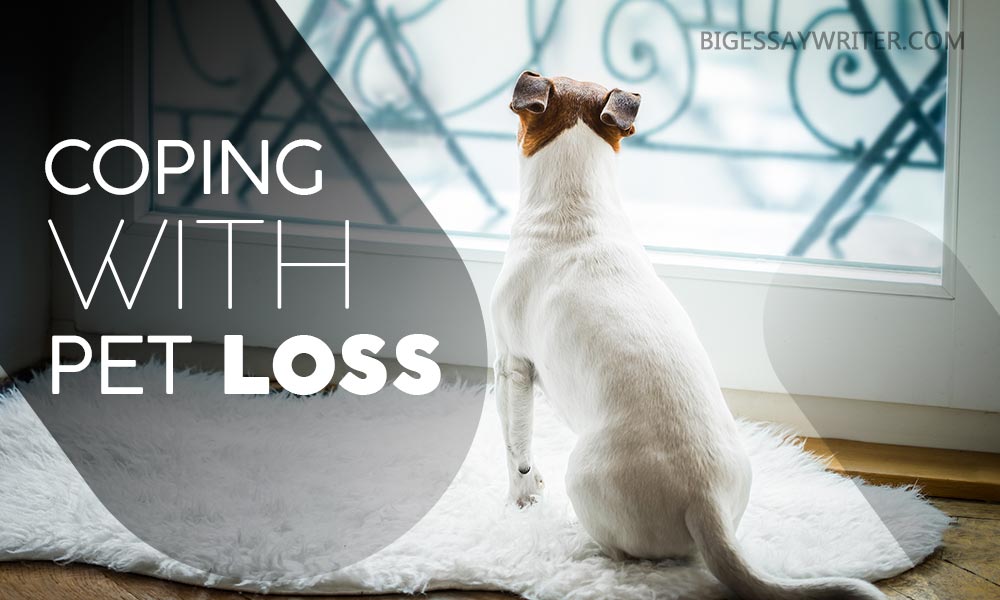 Previously, we have discussed the effective tips on how to get great night's sleep day after day. Today, we will analyze another important topic concerning the ways of coping with pet loss. Most people treat their pets as if they are rightful members of the family. Pets are not just cats and dogs. They are beloved family members, so when they die, everyone feels that it is a significant loss. The level of one's grief depends on such factors as your personality, your own age and the age of your pet as well as the circumstances in which your pet has died. As a general rule, the more traumatic the loss, the greater level of grief you will experience.
                Our pets play a great role in our life. For instance, if you live alone and your pet used to be the only companion in your life, its loss will be even more difficult to overcome. Besides, if you were not able to afford costly treatment to prolong your pet's life, you are likely to experience even greater sense of grief and guilt. Intense pain is what everyone feels when being faced with the loss of a companion, friend or family member. However, if to follow a few rules, you will be able to live through the grief about losing a pet and will be ready to seek a new pet after some time.
                Here are some tips on how to cope with the loss of a pet.
You should understand that sharp pain and grief over the death of your pet are quite natural and perfectly normal. The first thing you have to do is not to let anyone tell you that you are being silly or too sentimental about the loss of your beloved pet. You have probably spent years with your pet and it has become a constant and highly significant part of your life being a good companion and a source of comfort and unconditional love at all times.
Your pet has been fun to get along with, so it is no surprise that you now feel pain over the loss of such close relationship. That is why you should accept that pain and grief are normal in such circumstances and there is nothing to be ashamed of. People simply don't understand how painful it is to lose a pet that used to be your dearest friend. So don't let other people dictate how you should feel and remember that you are not alone as hundreds of pet owners have at some point in their lives gone through the same kind of feeling.
You should also remember that it is normal to experience some other feelings like guilt that might occur if you feel like you are responsible for the death of your pet. You can also feel denial and anger. For instance, you might not accept that your pet has really died. Your anger on the other hand may be directed towards the illness that was the cause of your pet's death or the veterinarian who was not able to save its life. It is also perfectly normal to feel depressed, as this is a quite natural consequence of your pet's loss.
In dealing with all the above feelings, the most important step you should take is to be as honest as possible about the state of your soul and mind. You should not deny pain or the feelings of guilt and anger. You should rather examine and come to terms with these feelings in order to overcome them. You need to acknowledge all of the feelings you experience and then try to deal with them.
Don't lock your grief inside yourself. It is not a way out. Try to express the pain and grief you experience by talking to other people who might be of some help to you. Try to make them understand that you really cared about your pet and its loss is a great shock to you.
You might also consider expressing your feelings and dear memories by writing stories, poems or even letters to your pet. You can also make a photo collage about the times you have spent together with your pet.
Don't hide your feelings in an effort to seem calm and strong. Talk to your family or close friends, and they will definitely help you overcome the death of your pet and the feelings caused by this loss. Talking to another person about how you feel is the best way to find a solution to the problem or at least calm down.
Check with the local church or even hospital to receive counseling. It is a good way to overcome the feelings of sorrow and grief. Remember that you deserve support just like anyone else who has lost a dear companion in one's life. 
Don't neglect your own health. Look after yourself by eating healthy food, exercising and getting plenty of sleep. This will help you take control over your mood and overall state of mind.
Finally, the last step you should do is not to rush getting a new pet. You will need time to go through pain and grief over the loss of your pet before you attempt to build relationships with a new one. It is especially true if you feel that your emotions are still not under your full control. Children in particular might feel like it is somewhat disloyal to their previous pet. Once you overcome your feelings, you can get a new pet, but don't make comparisons and don't expect the new pet to be exactly like the one that died.
The above tips will help you overcome the loss of your pet and get ready for starting to seek a new one. Remember that your grief over the loss of a pet is absolutely normal and will subside after some time. Check out our blog to find other valuable tips on a variety of topics. If you liked the essay, don't hesitate to order one on our website! We advise you to look through the free samples written by our professionals to be 100% sure that we provide only top-quality papers.