Essay On College Life Advantages And Some Helpful Advices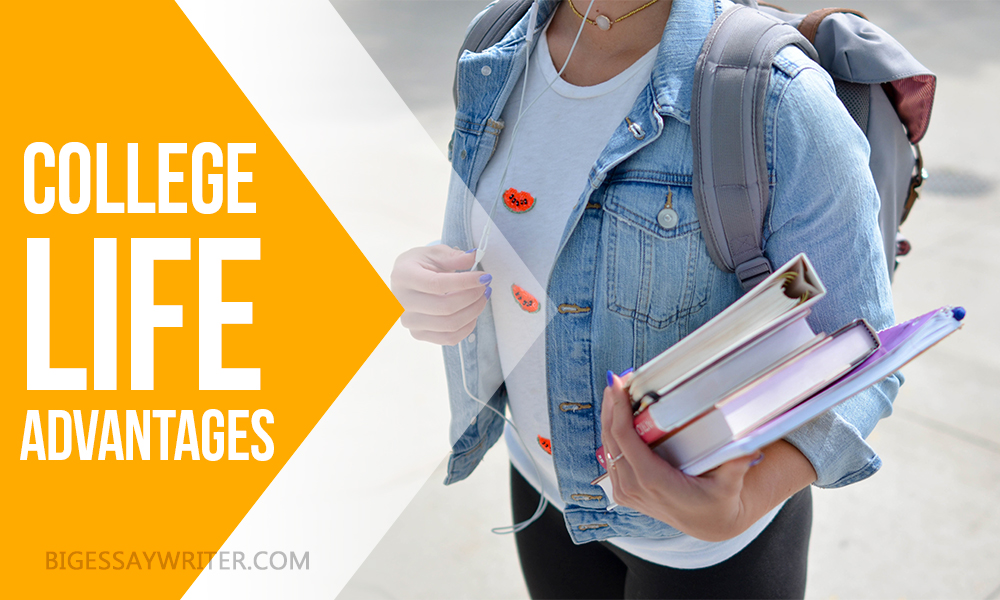 People got used to consider college as something that opens new opportunities. This is absolutely true, especially if you know how to find and use those opportunities. The transition to life in college is a big step towards self-realization that is possible due to new knowledge, acquaintances and various activities. This is a whole new world with thousands advantages and impressions for young people, but anyway, college life requires responsible attitude and rational approach. Latter in this college life essay I will tell in how you can improve your academic years.
There is a common misconception to consider the college life as solely visiting parties or concerts. It would be mistaken to think that adulthood implies completely feel the freedom and only have fun. Obviously, there is a necessity to have time wisely, alternating rest and labor, but although everybody understand it, many freshmen face with problems in virtue of overconfidence and ignoring advices.
No less recklessly to steep in work without right to leisure. Becoming obsessed of marks accumulation will not lead to achievement of results. Stress and overstrain are reasons of:
Forgetfulness
 Poor concentration
 Insomnia
 Illness
There is a one of the most important things that is necessary to keep in mind: no need to overlap oneself, subjecting to stress. It is known that 85% of students say that they experience daily stress in college. Young people starting independent adult life, live through many difficult situations like leaving home, adaptation to new surrounding, passing exams and others. In this way, there is high risk of getting breakdown. Summary, students should pay attention to leisure activities and rational timing for better results in college and protecting oneself from undesirable consequences of stressing.
Many young people consider results of studying according to evaluation. Such attitude leads to narrowing of interest and distortion of cognitive activity. The studying process includes not only marks; it is acquisition of knowledge primarily. It is worth to notice that self-development should be an object of studying, thereby educational process will not lose its importance. But since it is a lifelong process, we should never stop learning even beyond the pale of college. Also it is important to understand that college is the center of progress and movement processes. It is here where all the major process of life takes place because right here comes awareness of responsibility, social significance and competitiveness. In that way, students should use all the possibilities which college offers to get maximum resources for further applying.
The hardest task in college life is to decide what you are really interested in. The most essential thing in our life is an ability to choose and it is important to remember that nobody can take that ability away from you. Everyone has a right for being happy, but could it be possible on uninteresting classes and hateful job in future? Young people should recognize that studying in college implies comfort and interest in work, otherwise, academic years lose any sense. However, it does not mean that parents advices should be rejected, listening to their opinion helps to determine the direction of searches. Try to not neglect adults' suggestions, but keep in mind that they should not make decisions instead of you. Be serious about your choice, find out what is right for you and develop in that direction.
It is better to choose specializing according to:
Temperament
Propensities
Interests
Skills
Stress resistance
Hobbies
 Do not be too lazy to investigate more about yourself, thereby you will be absolutely sure in your decision. There are a lot of tests that could help you to gather a necessary information and to recognize what is the best for you. This is a career tests in which all your characteristics will be summarized and analyzed. Also there is a great opportunity of using professional counseling, that focuses on various career issues directly. So many people suffer from wrong choice of occupation, feeling themselves out of their element. Suchwise, future profession should not depends on level of demand in society only. Bother to know more about yourself and use that information in further choice.
There are a lot of activities in college besides occupation choice that are worth to be considered. As mentioned above, college life provides so many incredible opportunities for self-realization. Also there are so many ways to get a scholarship by being involved in various college programs. Such activities are directed on science issues predominantly. Professors often need students for assisting in science researches in different branches of knowledge. Such activity helps you to learn more about certain field. Also you can get a membership in sport team, that is no less interesting and developmental. For that program you should choose a right university and sport team, according to your skills. But, anyway, it worth to be noticed that even if you are a great sportsman, you should not forget about studies. Yes, talented athletes are highly appreciated in colleges, but it does not mean that it will be an excuse for you in case of fault.
All of those programs are available for you, but they requires your activity. If you are going to just sit in one's hands and wait for something, it is a really little chance for you to be noticed. For getting scholarship due to different programs you should learn more about college recruiting, science programs and other opportunities and try to get proactive. Remember that nobody can do it instead of you, so take action and conquer new heights.
College life is full of romance, emotions, impressions, winning and losing. All of developments that take place in college are an integral part of school of Life. It is the best way for getting experience and knowledge and also prove yourself in certain fields. So let it be incredibly exciting and interesting. Remember that it depends on you only, so make an effort and use the opportunities that college provides. If you are not trying to find new ways for self-development nobody will make it instead of you.
Did you like essay? You can find more useful tips and essays on variety of topics on our blog and make an order on our website