Free Narrative Essay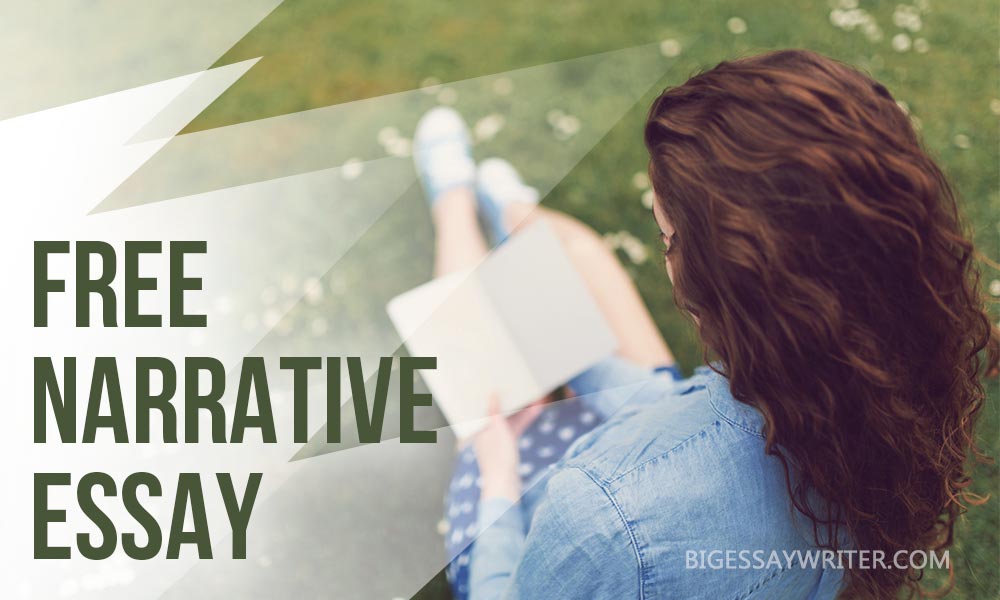 The narrative essay is the type of an essay that is often assigned to be written in high school or college, because it tests the student's ability to think creatively. When you read this free personal narrative essay you will understand that it is nothing but a story. If you search for more narrative essays online check out this blog post that shows a good example of free personal narrative essay. This kind of academic paper is called narrative for a simple reason, because in it you have to narrate your story. Free narrative essays often cover some controversial subjects, like one you can read about in this post.  The important part is that your story has to illustrate the point or moral of your paper. At our website you will be able to find excellent samples of free narrative essays online. Free personal narrative essay doesn't require any additional research since the writer depicts the story that happened in his own life. The story must explain some topic as well as be interesting and engage the reader with a lot of vivid sensory details. You can learn how to create such details from this website.
Composing this type of essay try to prove some point, for example that faith in yourself is important, and for proving that you will need to narrate a story that happened to you, when your faith really changed the course of your life or helped you to achieve something big. If you need some tips about essay writing techniques, please check out this post. The following essay will deal with the subject of failure. The author on his personal example illustrates that a failure can actually change your life to better.
The Advantages of Failure
I always knew I was going to become an engineer. That profession ran in our family like curly hair or big noses did in others. It was passed from father to son. Both my parents were engineers, my grandfather used to be an engineer in an airplane constructing bureau, where he met my grandmother, who worked there as a secretary because her father was the head engineer. So it was never a question — which occupation I must follow in life. 
Since early childhood I was obsessed with ships and sea life. My grandfather helped me to built miniature copies of real ships, which we took to the nearby pond for testing. My parents proudly demonstrated those models to all of our guests and pronounced that the boy was growing to become a future great ship constructor. I never questioned my desire to become an engineer, it was natural for me, like the fact that sun rose every morning.
When the right age came I applied to an engineering academy that both my parents had graduated from. I was sure of myself and my predetermined future when I went to take the entrance exams. I was surprised by other boys and girls who were so nervous to the point of crying. But it seems that my becoming an engineer was not such a natural and unquestionable matter for the admission committee. In a week after exams I went to the academy to see my name in the list of the new students. And then it was my time to cry. The crowd of excited youth gathered next to the wall on which hung the lists. Some smiled and laughed and some went away with sad faces.
 I pushed my way through the people to find my name on the list. But I could not. I went through it again and again, but all in vane, my last name was not there. There must have been some mistake I thought. I called my father who was acquainted with one of the professors and asked him if he could inquire about my application. In half an hour my father called me back. His voice was quiet and apologetic, "They say your math test was bad. They don't take you in, son," he said.
I almost ran out of the academy. My face burned with shame and bitter tears of disappointment rolled down my cheeks. How was I going to face my mother, who already baked a cake to celebrate the occasion? How would I ever look my grandfather in the eyes? I was a failure.
The next two weeks I spent locked in my room. I was shattered and could neither eat nor sleep. I was so angry with myself and my family for letting me believe that I was going to be a great famous engineer. But the summer went by and my parents insisted I had to think about what to do next. They offered me to try another university, a different major. But there was nothing else I could consider doing, I never thought about being anything else but an engineer. I said I was going to wait a year and study hard to be accepted the next year. My parents protested, for them not enrolling into any university at once and missing a year was worse than going into a wrong profession.  
But I could not just sit at home the whole year. If I didn't study I had to work. That was when one of my high school friends offered me to go to work on the fishing ship with him for six months. My parents were aghast at the idea of their only son disappearing at the sea for half a year. "We raised you to be an intellectual and not a fisherman," they said. But I was already burning with idea of sailing in the open waters, besides I knew a lot about ships.
Those half a year were hard but one of the happiest in my life, because I realized who I wanted to be. Not a fisherman but a sailor. I could not spend my life sitting in a dusty office drawing pictures, schemes and making models of future ships. I belonged to the sea sailing ship and not to the drawing of one.
I often think what if I did not fail then, what if I got accepted into the engineering academy? I would probably slowly realize that I was not cut for that sort of work, but it would be too late to go against the stream. I was so shattered then when I failed, I thought it to be the end of my life, but now I am thankful to that failure for saving me from a boring routine life and helping me to realize who I was really meant to be.  
Did you like the personal story of the writer? Were you able to distinguish the morale of the story from his narrative? Share your thoughts with us here. If you must compose a narrative essay for your school or college but don't know how to write it, our professional writers will be happy to assist you in it at this page. If you already wrote your narrative essay but it just doesn't look right and you feel that something is not working, then it probably needs some editing, which our experienced editors can provide for you for a reasonable price. Find out more about our editing services from this post.