How to Reduce Spelling Errors
Spelling errors in your essays often emerge as unpleasant surprises that cause your professor to send the work back for revision. In general, this type of mistakes appears when you type texts in haste or when you have poor knowledge of English lexicon. Both cases do not come out to your advantage when the professor checks your work, that is why eliminating spelling errors is very important for academic writing. Here we will share with you several tips how to reduce mistakes in spelling in your writing; the approach is complex: you can do it on your own, with the help of special software or turn to paper writer services. Read more about each method below.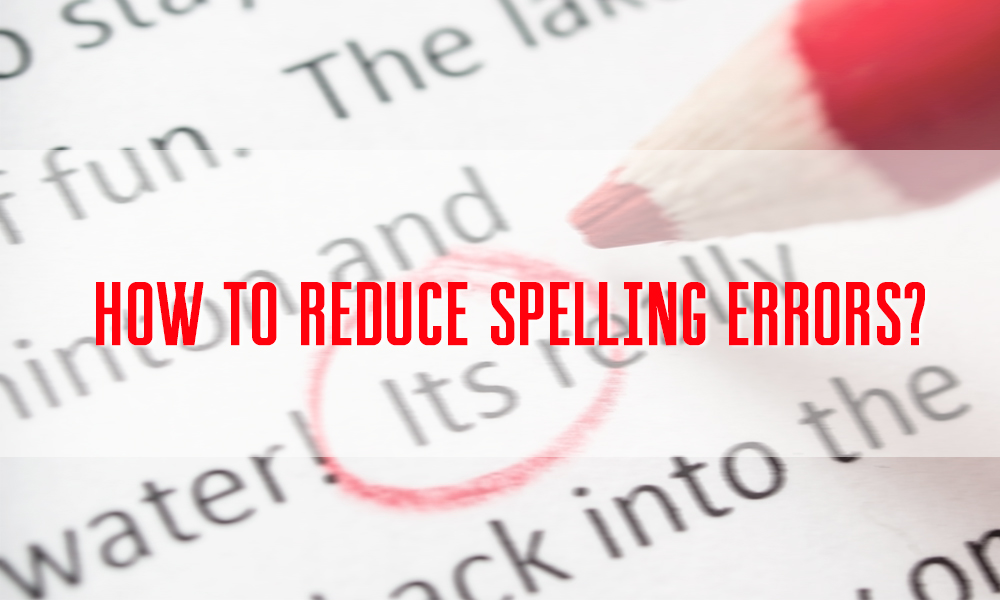 Reducing mistakes on your own
Being able to deal with your own mistakes is the best that can happen to you during college years. It is more or less easy if your errors crop up due to your haste or lack of concentration. Then you just have to take your time and proofread the whole document before submitting it; this will be enough if you are good at English spelling.
However, in most cases students get lost when they face editing and proofreading tasks. Not all of us have sufficient knowledge to create flawless papers on the spot. That is why we suggest several techniques to help you deal with mistakes on your own.
The first one will be to consult a dictionary each time you come across a difficult word. This is time-consuming and sometimes even boring, but you can be nearly 100% sure that you write correctly. Besides, trying to learn each work you look up, you will reduce the number of occasions on which you need to consult a dictionary. How do you like this motivation to learn spelling? We hope you understand it that there is no need to carry around bulky paper editions; it our post on improving your grammar with a smartphone we talked about electronic dictionaries for your device. They are even better for learners than the paperback ones because they save your time that you otherwise would have spent on leafing through pages.
The next tip is more general, but it gives you a lot of benefits in the long run. Simply read more. And now we are not talking about messages from your friends or advertisements on billboards. What we mean is quality literature, regardless of the genre. Many people believe that only classics will teach you how to write well, but we have another opinion on it. Let's face the truth: works of classical literature are outdated; their grammar and vocabulary would look ridiculous in modern essays, not to mention obsolete spelling variants. So, sticking with modern literature is more beneficial in terms of learning English spelling, and it will be extremely helpful for you to read books and articles connected with your major.
Using checking software and online services
Many modern text editors allow you to use their grammar and spelling checking feature. Some of them offer it for free, while others have it as a paid special. Among offline programs we can name such examples as MS Word and OpenOffice, but their online analogs are so numerous that it would take several posts for us to analyze only the most popular of them. That is why we leave it up to you to decide what program to use, while we will focus more on the principles of using them when checking your essays.
First of all, it is better to type your text in an editor straight away as compared to copying it there after finishing. The reason is simple: when your writing gets checked immediately, you can correct most of the wrongly spelled words on the spot, and you would not need to go back to them.
Then, pay special attention to foreign words and phrases if they appear in your writing. The software will automatically highlight it as a mistake, which actually it is not. That is why you had better turn off the autocorrection tool – it will only mess things up if you work with bilingual documents frequently.
Last but not least, when you resort to checking your spelling online, find out more about the website of your choice. Not necessarily the first one in your search results will be exactly what you need. Some services have poor vocabulary databases, while others do not support large texts. This may end up in you being sure that you have checked the whole document, when actually the website has processed only a half of it.
The advice to use checking software works best if you combine it with the first tip. Here is how you can automate the process:
use special websites or offline programs to check your essay;

refuse from automatic corrections and examine each allegedly wrong word on your own;

let the machine correct obvious typos and misprints, but check disputable words in authoritative dictionaries (for example, we would not rely on a checking program when it comes to such semantic pairs as historic vs historical and classic vs classical).
Turning to professional editing services
Taking into account that the above-mentioned techniques do not guarantee you a 100% result, we offer something that does. Only professionals in academic writing can manage to get rid of every single mistake in your essay, thus perfecting it to the highest degree possible. Our editors have necessary skills and experience to work on your college assignments. You will only benefit from turning to us because:
Our prices are one of the cheapest that you can find on the Internet, and editing one essay will not make a hole in your pocket, that is for sure!

Our expertise guarantees that the number of spelling mistakes (as well as any other ones) will have been reduced to zero by the time you get your document back;

If necessary, our editors will consult only reliable English language dictionaries to check the spelling of problematic words (i.e. those that have multiple spelling variants). We will stick with the most standard version.

We are ready to work with your custom instructions, which ensures the highest level of personal approach to each customer. Big Essay Writer will do everything to make you satisfied with our services.
All in all, there are only three options how to reduce spelling errors in your writing. The first is to work on your English knowledge, which is the most time-consuming, but at the same time the most rewarding. The second option is using computer for spotting and correcting spelling mistakes. And the third one (that we find the most efficient) presupposes turning to professionals to solve this problem. No matter which variant you choose for yourself, we wish you only high grades for your essays and papers. You are welcome to follow our blog that provides you with practical tips how to get these good grades easily.