How to Write Justice Essay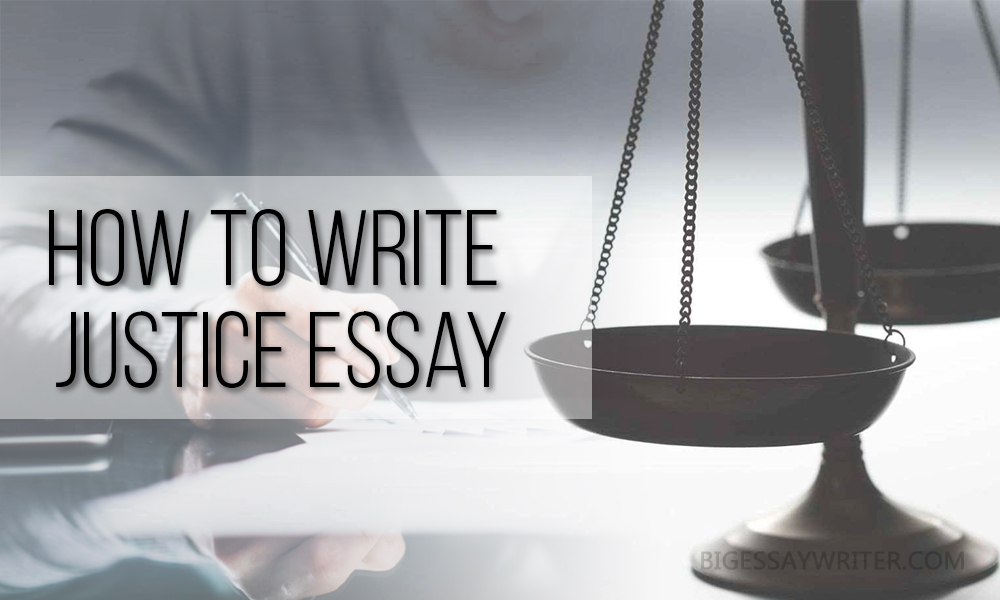 It is not an easy task to write a justice essay, if you lack certain skills and don't know the essence of writing this type of paper. In order to understand the basics of writing justice essays, you should first learn more about the types of this kind of paper. Let us consider every type of justice essay in detail referring to how to write each of them. But first of all, there is a need to give a definition of a justice essay in general. So, what is justice essay?
                It seems to be an easy question to answer, as a justice essay obviously deals with the issues related to justice. The modern society defines justice in its own specific way, so that this word has a different meaning for every individual. To put it simple, justice can be defined as an ideal of ethical and moral equity and a principal of being fair towards others. Even nowadays, justice remains in the center of debate as it has a great number of definitions all of which are to some extent right, although none of them can be regarded as a full description of this notion. All this leads to a conclusion that justice essay is a paper dealing with social, juvenile, criminal and other aspects of justice. There are different types of justice essays as will be discussed below.
                Criminal justice essay is aimed at investigating the criminal cases in order to have a clear view of the criminal rates and a full-fledged understanding of the current situation in the criminal justice system. In order to write a criminal justice essay, you need to have a broad vision regarding the criminal offenses that have taken place in the recent past or some particular criminal case that you are going to investigate in your essay. Criminal justice essay is something you will not be able to write in one sitting, so thorough preparation is required for completing this task successfully.
                Social justice essays generally deal with the issues of social life within the boundaries of the criminal justice system. What is social justice? According to Wikipedia, it means provision of equal opportunities for every person to live in fair conditions within the society. In order to write an essay on social justice, you need to understand the rights of every person regarding economic, social and political issues that give every member of the society an opportunity to live a decent social life. This is the basic requirement for writing an essay on social justice. Once this requirement is fulfilled, the task of writing social justice essays will not seem that difficult.
                Injustice essay investigates the cases of injustice towards certain members of the society, including minorities and people with different religious affiliations or different cultural backgrounds. Injustice essay may investigate the problem in general or deal with the particular case of injustice within the society. This type of essay is also known as social injustice essay, as it mainly deals with social problems and unfairness towards certain social groups. In order to write an essay on social injustice, you need to conduct thorough preparatory work to understand the basics of social problems existing within the society.
                In order to write a juvenile justice essay, you need to explore the cases of juvenile delinquency in detail and make certain conclusions regarding the criminal rates and the reasons of juvenile offenses happening in the modern world. According to NCJRS, the latter is one of the key goals of juvenile justice system. Essay on juvenile justice requires considerable efforts and attentiveness to details in order to write the paper to the best of one's abilities. Juvenile justice essays also explore the means of preventing juvenile offenses and the ways of dealing with juvenile delinquency. This type of essay is not something you can do in one day, so thorough preparation is a must.  
                It is not easy to write criminal justice essays, because you need to fully understand the criminal justice system of the given country. A criminal justice system essay deals with the criminal cases that violate the justice system of this or that country. In order to write a criminal justice essay, you should learn more about the criminal justice system of not only your own country but other countries of the world in order to make comparisons and provide a clear overview of the problem. Criminal offenses should be investigated in detail in order to persuade your academic supervisor that you have a profound knowledge regarding the criminal justice system and the related issues.
                Restorative justice essay is aimed at exploring various criminal cases focusing on the needs of offenders and victims as well as the community in general. Essays on restorative justice differ from other types of justice essays because they do not deal with the means of punishing the offenders, but rather explore their needs together with the needs of victims. Restorative justice essays are not easy to write, if you lack judgment skills and do not know much about the modern methods of dealing with offenders of the crimes. In fact, according to Wikipedia, offenders should be encouraged to feel responsible for the crimes they have committed. This will ensure that they understand the consequences of their actions.
                Finally, it should be noted that it is not always an easy task for any student to complete the assignment of writing justice essays of different kinds. You should adhere to a number of rules while writing this type of paper and possess certain skills that will help you write the paper using fair judgment and avoiding stereotypes. There are various kinds of justice essays, each of which deals with different issues within the scope of criminal justice system. In order to write a good justice essay, you should keep in mind that this type of paper requires profound knowledge of the given topic and an ability to analyze the problem from the perspective of criminal justice system of the given country. Once this requirement is realized, it will be much easier to write justice essays on absolutely any topic.
                If you liked the essay, you can order it on our website!